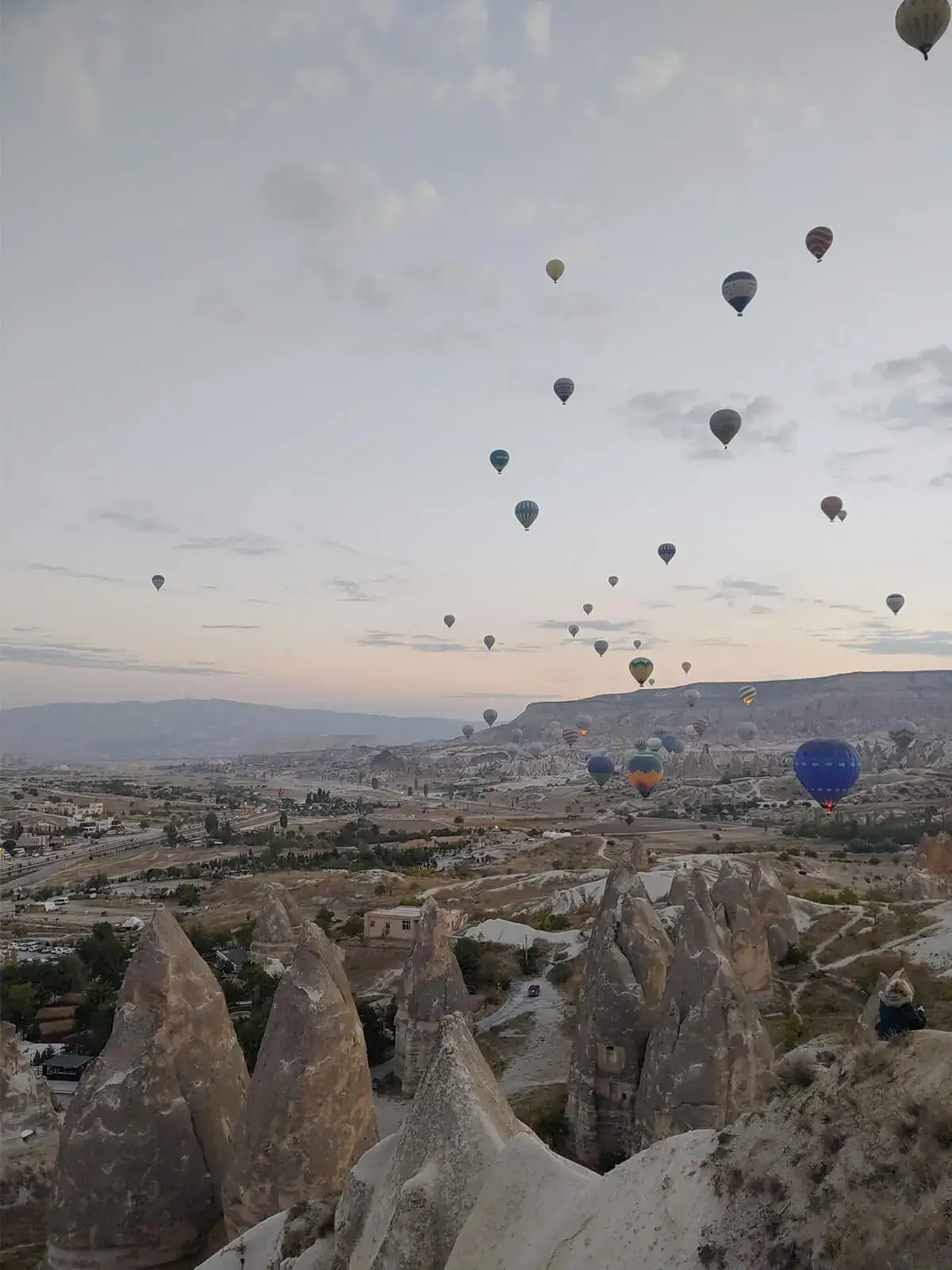 1. Cappadocia is the most popular destination for hot air balloons for a reason
With other-worldly terrain and underground cave houses, Cappadocia has long been 'the' hot air balloon destination in the world.
While there are other places where you can take hot air balloon rides for cheaper in Turkey such as Pamukkale, the experience isn't even close to as exciting as taking a hot air balloon in Cappadocia.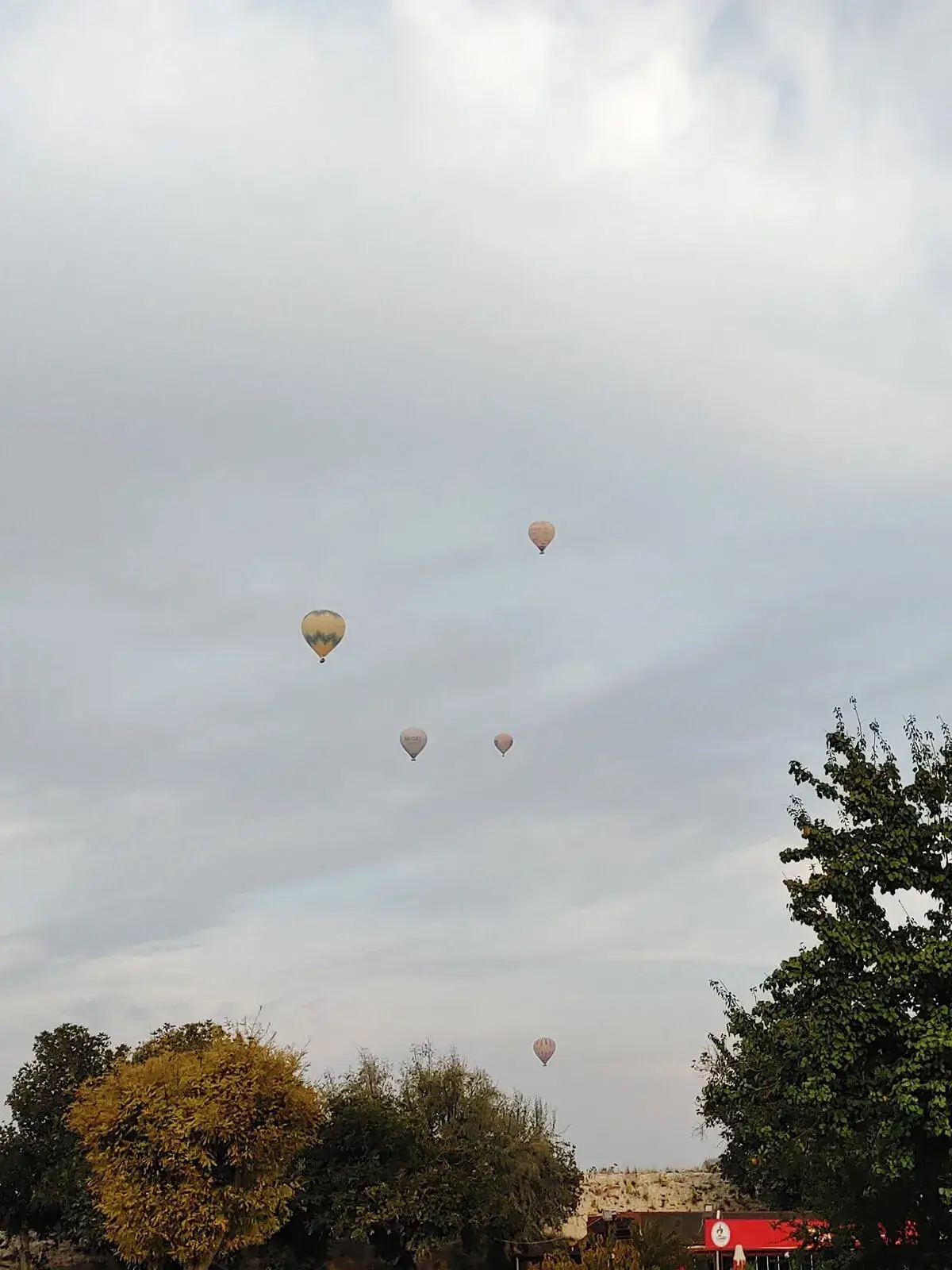 Notice the difference between this photo which was taken in Pamukkale and the featured photo that was taken in Cappadocia?
2. Book online, far in advance to bag the lowest prices
The popularity of hot air balloon rides in Cappadocia of course comes with high prices. The typical tactics that amateur travelers use — booking in advance and traveling in the shoulder or off-peak seasons — actually work here.
In the shoulder to high seasons — the prices can go from EUR 175 per person if you book 2 months in advance to EUR 300 per person a day before departure.
In low seasons, the prices can go down to as low as EUR 135 per person.
You can book directly with hot air balloon companies through WhatsApp or their website or use aggregators such as Viator, Klook, TripAdvisor.
3. Plan to do your hot air balloon ride early into your stay in Cappadocia
Hot air balloon rides are subject to weather conditions and do get cancelled at times.
Booking a ride early on in your stay allows you to rebook your ride to a later date if needed dramatically lowering your chances of being disappointed — it's mathematically much less likely that your hot air balloon ride will get cancelled 2–3 days in a row.
4. Choose the first flight if you want to catch the sunrise
Given the demand for hot air balloon rides in Cappadocia, many operators operate 2 flights per day taking off within 30–45 minutes of each other. The 30 minute difference can mean the difference between catching the full sunrise vs catching only a part of it or fully missing it depending on the season. Try to ask the operator you're booking with to guarantee the first flight.
During super high demand seasons, some operators also operate 3 flights in a day — avoid the 3rd flight at all costs. You will fully miss sunrise and most people would be done with their hot balloon rides meaning it will feel more like you're taking a hot air balloon in Pamukkale than in Cappadocia.
5. Check the size of the hot air balloon before booking
Hot air balloon capacities vary — for the same cost, you may get a ride in a 16 person hot air balloon with one operator and a 24 person balloon with another. Make sure to check the details before you book. And in case you're wondering, lower capacity is better — you'll likely have more space for yourself on the hot air balloon.
6. Not all companies sell 1-person tickets
Hot air balloon companies like other travel companies want to ensure full occupancy as much as possible. Given that hot air balloon capacity varies in multiples of 2–16, 20, 24 etc., companies risk having 1 place go empty if they sell to solo travelers. As a result, they might put you on waitlist or deny your booking altogether. To avoid this uncomfortable situation, you can either group with other people or try to book as far in advance as possible so the operator can group you with other solo travelers well in advance of your trip.
7. All is not lost if you find hot air balloon rides too expensive
Even if you optimize for everything, hot air balloon rides in Cappadocia (and most other places) are still pretty expensive. While they are definitely worth it if you can afford them, all is not lost if you can't.
If you're staying in Goreme which is the most popular base for tourists wanting to explore Cappadocia, there is a great viewpoint to catch a glimpse of the hot air balloon filled sky that is gorgeous in it's own right.
The featured picture for example was taken at this viewpoint.