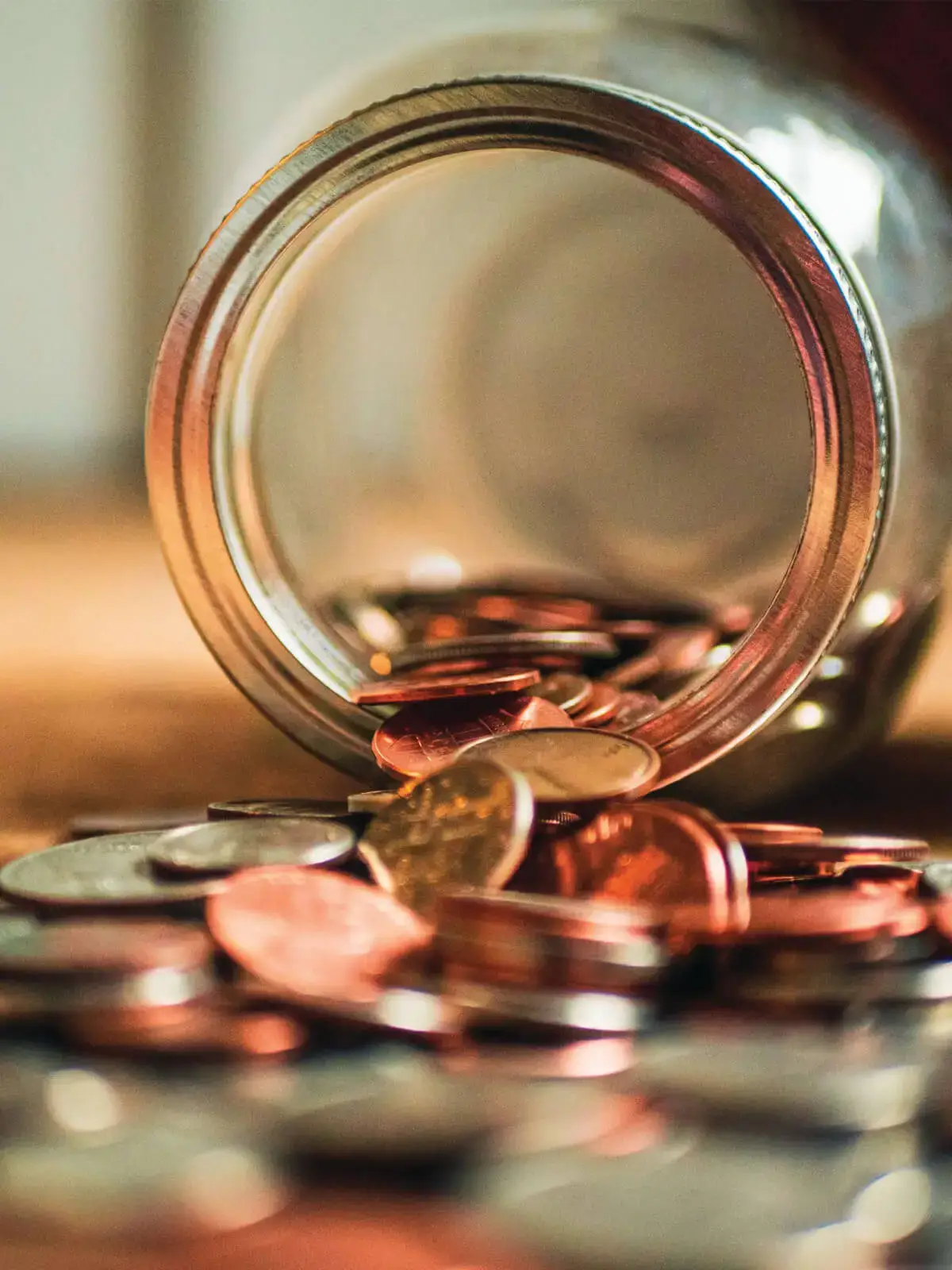 Probably the biggest determinant of your costs is the dates on which you plan to travel.
And no, this is not just about peak season vs off season. Of course, every destination has it's peak season when prices are sky high, off-season when prices are low and shoulder season when prices are somewhere in between and you can easily find these seasons for any destination with a simple Google search.
But, it is possible to find lower prices within these seasons – even within the peak season.
How? Even within peak season, there are some dates that are more popular than others. A classic example is Christmas break – everyone travels from mid-December to early-January. If you can afford to travel right before or right after – you will find significantly lower prices.
A much more common example is any long weekend – Diwali week, Durga Pooja week, Pongal weekend, Independence day long weekend and so on. Everyone wants to travel during the long weekends because that is when they don't have loss of pay, that is when children don't have to go to school and so on. If you can afford to travel right before the long weekends, you will find significantly lower prices and crowds.
Here's an example: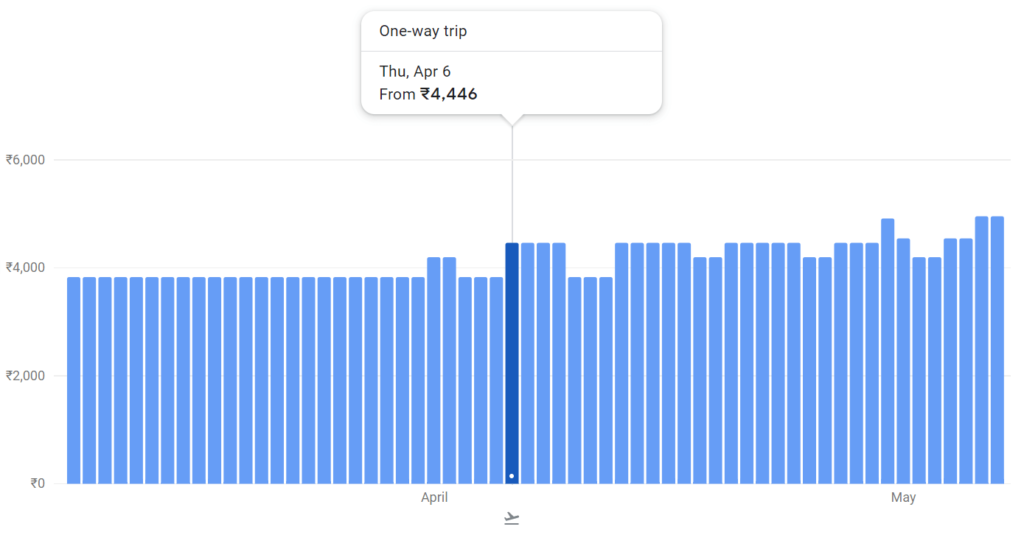 Snip from Google Flights showing prices for Mumbai-Delhi flights on different dates
Notice how the flight prices jump on April 6? This because April 7 to 9 is Good Friday-Easter weekend.
A common belief is that if you book far in advance, you can get the lowest prices. Another common belief is that there is a right time to book flights – that if you book say 21 days in advance you'll get the lowest prices. Sorry to break it to you, but neither belief is really true.
Here's proof:
Snip from Google Flights showing change in prices for a Mumbai-Chennai flight over ~60 days from the date of departure
While the last-minute price is high, notice how the price if you booked 1 day earlier is the same as if you had booked 2 months earlier! And the lowest price for this flight is roughly 25 days before departure
Snip from Google Flights showing change in prices for a Mumbai-Delhi flight over ~60 days from the date of departure
For this flight on the other hand, if you booked 4 days before departure, you would have paid much lower than if you booked 2 months before departure! (or 25 days before departure)
If booking in advance doesn't always work and there is no right timing when you can get the lowest prices, how can you save on flights?
1. Use flight search aggregators
Websites like Google Flights, Kayak, Skyscanner etc. allow you to search for the cheapest flights and compare prices across websites. These websites also let you track flight prices and alert you when the price drops or goes up – the snips above for example, were taken from Google Flights.
Do note that while they are great, these websites are not perfect – for e.g., the alert system can skip sharing the lowest prices at times or share them a little too late, the different prices you see in these websites are not always reflective of any promotional offers that online travel portals may be independently running.
Probably the biggest caveat with these websites though is that they are only aggregators of different travel portals and don't verify any portals they list – you should always check the authenticity of portals you haven't heard of or used before you book – a simple Google search for TripAdvisor reviews on the portal would avoid countless hours of running behind non-existent customer service on shitty travel portals.
2. Consider connecting routes vs direct routes
Direct flights are more convenient and especially when travelling longer distances tend to be more expensive. Connecting routes offered by airlines are usually cheaper.
You know what's even cheaper? Making the connections yourself
Some routes are significantly cheaper than others. And a lot of times these overlap. For e.g., many India to Abu Dhabi routes are cheap and so are several Abu Dhabi to Europe routes – so if you self transfer, you can potentially fly from India to Europe for under Rs. 10,000!
A quick note of caution though – this method does come with it's own risk. Because you're making the connection yourself, if your first flight is delayed or cancelled and you miss the second flight – you will lose your money and need to book an expensive last minute flight. Make sure you allow a gap of 6 hours or more to minimize the chance of this happening.
Additionally, If you have baggage, you'll need to check out your luggage and check it back in. If you're travelling internationally, this means you'll have to clear immigration twice – to collect your bags and then to check them back in – make sure to add sufficient time on top of the 6 hours to allow for this.
Goes without saying but self transferring only makes sense if there is a significant difference in price between an airline managed connection and your self transfer itinerary.
3. Check for additional discounts from travel portals
Once you've identified which route you're going to fly – direct vs connecting vs self-transfer and which flights you want to take, check reputed travel portals to see if they offer additional discounts such as bank offers. Cleartrip, Makemytrip and Yatra, for example, are reputed travel portals in India that often run attractive offers.
Unfortunately, you'll have to check manually as portal specific discounts are not captured in the prices that search aggregators display.
Note that while booking with travel portals can be cheaper even after accounting for convenience fees, travel portals charge additional fees on top of airline charges if you have to reschedule or cancel your flights. This is not a problem if your travel plans are largely certain but if you need greater flexibility make sure to check if the additional fees are worth the initial discount and/ or purchase a flexi fare option with the travel portal (after reading the terms and conditions).
You know what's the best way to save to save hotel costs? Don't stay in them! To the extent that you comfortably can avoid them of course.
Here are some ways in which you can do that:
1. Explore hotel alternatives
Consider Airbnb, hostels or couchsurfing if you're okay with not having round-the-clock, on-demand room service. These can help you cut down on your costs significantly.
2. Use night buses or trains on the priciest days
Hotels tend to be pricier in the weekends especially Saturday night. If you're travelling to multiple cities, consider taking a night bus or train on Saturday rather than staying in a hotel (or Airbnb). The same goes for major festivals or events.
For when you do have to or want to stay in hotels, use hotel aggregators like Trivago, TripAdvisor or even Google Maps to find the lowest prices.
There are four main ways to reduce your spending on activities/ attractions though you may not be able to generate as much savings as with flights or hotels:
1. Look for "free" attractions
Include a greater number of "free" attractions in your itinerary. While these are unlikely to be your bucket list attractions, sometimes they can be just as exciting.
2. Check for offers and ticket-free times
For your bucket list attractions, see if they have ticket-free hours or offer discounts for students, for specific nationalities, or for certain age groups and take advantage of them.
3. Consider booking online
Check if booking online would be cheaper – you can usually find better deals online through websites like Klook. Plus, booking online usually allows you to skip the line at the ticket counters.
4. Consider buying a pass
Many cities like London, Taipei, etc. have single and multi-day passes that allow you to visit all listed attractions for a single price.
However, the pass only makes sense only if you're able to pack quite a few attractions into a short number of days and the attractions listed are pricey to visit using separate tickets.
1. Choose an optimal location
While hotels and other accommodations that are right next to major attractions are likely to be super expensive, you might be able to book a stay that is slightly further away but still within walking distance of major attractions at reasonable prices.
If staying within walking distance of major attractions is not affordable enough, try to stay close to public transport hubs.
Use public transport as much as possible rather than using taxis to save on local transport costs. The level of public transport can vary widely though. If the places you're visiting are not known for having great public transport systems, make sure to do your research well in advance.
Additionally, check if there are public transport passes – cities with good public transport tend to have single day, multi-day, and weekly passes that allow you to take unlimited rides within the duration of the pass.
How much you save on food really comes down to your tastes and preferences but if you can:
1. Skip eating in tourist-y neighborhoods
Restaurants in neighborhoods packed with bucket list attractions are very likely going to be expensive.
2. Check out local markets
Local markets allow you to both experience the local cuisine as well as cut down on your restaurant expenses. 
However, the level of hygiene in local markets can vary widely so do make sure to do quick check online before heading there.
3. Use apps and passes for discounts
Many passes that let you visit multiple attractions as discussed above also include restaurant discounts that you can leverage.
You can also check widely used local dining or food delivery apps for ongoing offers and promotions.
Part 7 - Parting thoughts
Information/ knowledge is key to saving on your travel costs – do your research properly before you travel – localized hacks, any common tourist scams you need to watch out for, affordable places to eat etc.
Know that no matter how much you plan, there will be at least some things that won't go your way. If this happens, try to be calm and think with a cool head rather than taking rash and costly decisions
It can be a bit of a hassle to do all of the above but in the end it is exciting and worth it. If you want all the benefits without the hassle though, you can outsource the hard work to us (you didn't think we wouldn't have a plug, did you?)